Introduction
Dark woodwork is a classic and timeless feature in many rooms, often using pieces such as carved cabinets or dark stained flooring. Modernizing this type of room, however, can be difficult: homeowners may not feel comfortable stripping away the existing woodwork, while painting over the existing pieces could look too dated. Fortunately, there are still plenty of ways to bring a classic wood-paneled room up-to-date.
Paint: One way to modernize dark woodwork is by painting it in a brighter color. Choose shades like white, light grey, or other neutrals for walls, trim, and doors that'll help open up and brighten the room. For furniture items like chairs or tables that are made from wood, consider refinishing them with a modern finish instead of leaving them with their original finish.
Lighting: Replacing outdated lighting fixtures with more modern fixtures is another good way to modernize the space. Look for light fixtures that incorporate both warm and cool tones depending on the color palette used in the room. Hanging pendant lights or lampshades can also offer an eye-catching visual detail as well as functional illumination to spaces where natural light isn't sufficient.
Accent Pieces: Additionally, accent pieces such as area rugs and wall art can help soften hardwood floors and make furniture pop against a darker background. Choose accents that complement rather than clash with your existing decor for an balanced overall look. Consider adding plants or greenery too " these features add life and texture to any space!
Conclusion: Updating dark woodwork doesn't have to be daunting; with some thoughtful design decisions you can transform your room without changing its core character! Integrate pieces that are reflective of today's trends but don't forsake those elements that give your home its traditional appeal"the right balance will produce a cohesive look and make your space feel fresh yet timelessly classic.
Setting Your Budget
When modernizing dark woodwork in a room, it is important to determine how much you are willing to spend for the project. You should decide if you want to purchase new furniture and accessories or just upgrade the existing furniture and accessories. Consider materials – such as paint, wood stain, and sealer – that you may need. Calculate the cost of labor if you plan on hiring someone to update the look of your dark woodwork. Take into account the size and shape of the room to get an accurate estimate of what this project will cost overall.
Choosing Your Color Scheme
When modernizing dark woodwork in a room, you should start with the color scheme. A good starting point is to choose neutral colors. Neutral colors like white, gray, beige, and light brown tend to brighten up spaces as they provide subtle background for any brightly colored accents found in accompanying decor. Additionally, use colors to create contrast when modernizing the space; using bold colors like blues and greens can play off the darkness of the woodwork and draw attention to it. To further shift the look of the space from traditional to modern, consider adding metallics like gold or silver for an elevated look. Finally, consider wallpaper to change up a dark room as it allows you to introduce patterns and colors that will make this room feel new and contemporary.
Updating the Floors
Updating the floors is a great way to modernize a room with dark woodwork. This can be done by either replacing the flooring with more contemporary materials such as tile, stone, or laminate, or by layering area rugs over the existing flooring. If you have original hardwoods under your carpet, those can also be sanded and stained for a fresh and timeless look. Dark woods lend themselves to the warmth of cherry, walnut, teak or mahogany stains for a classic touch. Alternatively, lighter stain colors like pine are also popular for bringing brightness to a room without taking away from the darkness of the woodwork.
Freshening Up the Walls
One of the most effective ways to modernize dark woodwork in a room is to freshen up the walls. Consider painting the walls with a light color to help brighten and open up the space. If painting is not an option, wallpaper can also be used to create a brighter and bolder look. Wall art can also be added for pops of color as well as visual interest and focal points throughout the room. Mirrors, photographs, or artwork can all work together with paint or wallpaper to create a modern feel. To further create impact, window treatments such as light drapes or shades can be incorporated into the overall design to keep natural light from fading out any of your efforts. Finally, adding colorful accent pieces such as rugs, pillows, and throws will really bring out any style you may have going for the room and complete your modern look.
Enhancing the Ceiling with Lighting
Upgrading lighting can be a great way to modernize dark woodwork in a room. The key is to incorporate multiple sources of light for the most effect. Consider installing tracks with recessed lights, wall-mounted fixtures, or pendant lighting. If you want to highlight particular features, uplighting and wall sconces can be used to draw attention to specific areas such as crown molding or built-in shelving. Also, don't overlook the importance of indirect lighting options like table lamps, chandeliers, and floor lamps which work especially well in added darkened spaces like on either side of dormer windows or banisters. Not only will this type of lighting make dark woodwork stand out but it will also help evoke a cozier feel throughout the room. Generally speaking, modern light fixtures tend to have straight lines and simple silhouettes with an emphasis on muted tones or even metallics when it comes to accentuating the overall look and feel within a space.
Sprucing Up Window Treatments
If you're looking to modernize dark woodwork in a room, window treatments can make a big difference. Choose something like sheer curtains, Roman shades, or blinds in light colors or materials like linen that will give the wood an airy and updated look. Take advantage of natural light by relocating traditional heavy curtains to just frame the windows and mount sheer panels inside the existing frame that will add softness to the room. Update hardware like hinges and finials for an instant contemporary feel. Consider adding tassels and trim detail to revitalize your existing window treatments for a subtle modern twist on traditional style.
Making the Furniture Modern
If you have a room with dark woodwork, it can be difficult to modernize. However, there are some simple steps you can take to bring your room up to date. One of the biggest changes that can be made is making the furniture more modern. Consider replacing heavy traditional furniture with sleeker, more contemporary pieces. Swap out high-backed chairs for low-slung armchairs and opt for a minimalistic coffee table instead of an ornate one. Additionally, try using lighter fabrics on cushions to lighten the overall look and feel of the space.
Incorporating Wall Art
If you're looking for a way to modernize dark woodwork in a room, incorporating wall art is an effective approach. You can hang wall art featuring interesting colors, textures, or shapes to bring depth and contrast to your dark woodwork. Be careful not to create too much contrast by choosing artwork that clashes with the wooden accents in the space " instead, opt for pieces that complement the existing tones of the woodwork. Consider adding large statement pieces as the focal point, as well as smaller pieces such as posters, prints and photographs on either side. If you'd prefer a softer look, choose abstract or muted artwork with understated hues. Working in some vibrant artwork on accent walls can help draw attention away from dark wood while simultaneously revamping the atmosphere of the room. Add lighting over artwork to make it more visible during evening hours and introduce even more style into your space.
Adding New Accessories
Dark woodwork is often a timeless feature in a room that can bring a lot of character and warmth. However, if you want to update the space and give it a more modern feel, there are several ways you can go about modernizing your dark woodwork.
One way to modernize your dark woodwork is by adding new accessories such as rugs, curtains or wall hangings. These items could have bold patterns or bright colors that stand out against the dark wood to create a vibrant contrast. Painting walls in muted shades can also help to create an airy look while keeping the dark wood as the focal point. You could also add lighting fixtures with a modern design, such as an industrial styled pendant lamp, to further enhance the contemporary aesthetic of the room. Mirrors are another great option for creating light and making the room appear larger while still keeping the dark wood as part of its decor. Another way to modernize darker tones is through incorporating furniture with a lighter finish that will balance out the darkness of your woodwork. Try combining different textures and materials for an eclectic look that would be perfect for any contemporary setting or home decor style!
Implementing Greenery
One of the simplest and most effective ways to modernize dark woodwork in a room is to bring in some greenery. Adding plants can instantly brighten up any dull space, especially if you choose ones with lighter colored leaves or brightly colored flowers. You could invest in a tall potted plant to really draw the eye upwards and make the room appear larger. If your goal is to create an airy and calming atmosphere, opt for trailing plants that will cascade over furniture and windowsills. In addition, more exotic foliage such as ferns, palms or succulents will introduce color and texture into the space. And don't forget " many species of indoor foliage will also provide natural oxygenation and cleanse the air of pollutants. That way your newly modernized room becomes an oasis not only aesthetically but also practically!
Finishing Touches
Adding finishing touches to modernize dark woodwork can be an easy and fun process. One of the most common ways to modernize dark woodwork is by painting it a completely different color. For instance, painting a dark brown bookcase white can add a contemporary flair. Additionally, adding canvas wall art or colorful rugs helps to lighten up the room and balance out the look of the darker woodwork. You can also choose to replace older fixtures such as doorknobs, door handles, and pulls with more contemporary options to further update the look. Additionally, windows may need updating too in order to provide more privacy or light into the room-consider replacing them with more modern options (such as frosted glass). Lastly, changing out light fixtures with more modern styles can help elevate the entire design so make sure you spend time looking for just the right ones!
Conclusion
When it comes to modernizing your dark woodwork room, there are several steps you can take. Make sure all the additional pieces of furniture are either light in color or made from materials that don't match the wood, such as metal or plastic. Choose modern-style accessories and art for an updated look. Finish off the space with lighting and statement pieces to complete the design. With some careful consideration and planning, you can transform your room into a fresh, modernized space that reflects your unique style. Have fun exploring different ideas until you find something that works perfectly in your home. With these easy tips, you'll be well on your way to creating a beautiful ambiance in your dark woodwork room.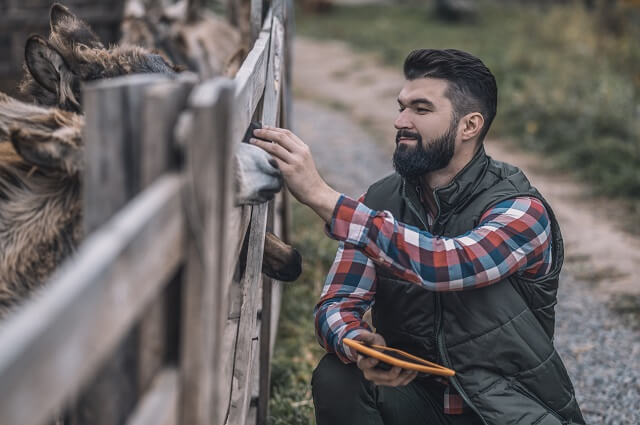 Hi everyone! I'm a woodworker and blogger, and this is my woodworking blog. In my blog, I share tips and tricks for woodworkers of all skill levels, as well as project ideas that you can try yourself.