At Family Woodworks LLC, we pride ourselves on our commitment to creating high-quality, handcrafted woodwork products that will stand the test of time. Our mission is to craft beautiful, durable pieces that can be cherished by families for generations. We believe in the artistry and authenticity of woodworking, and every piece we create reflects our dedication to excellence.
Our company has a rich history behind it, rooted in a legacy of craftsmanship that has been passed down through the generations. We started as a small family business, and over the years, we have grown while staying true to our values and principles. The expertise and passion for woodworking have been ingrained within us from an early age, influencing how we approach every project.
Each creation by Family Woodworks LLC is a signature masterpiece that showcases the beauty of handcrafted woodwork. Our artisans pour their heart and soul into every detail, ensuring that each piece is not only visually stunning but also impeccably constructed. From intricately carved tables to exquisitely designed cabinets, our portfolio truly exemplifies the artistry and skill behind our work.
We are dedicated to using only the finest quality materials in all our creations. Sustainability is at the forefront of our sourcing practices, as we believe in preserving nature while creating art. By carefully selecting premium wood for each project, we not only ensure exceptional durability but also contribute to environmental preservation.
Customization and personalization are at the core of what we do. We understand that every customer has unique preferences and needs when it comes to woodworking. That's why we offer tailored solutions to transform your vision into reality. From incorporating specific design elements to choosing personalized finishes or dimensions, we strive to create a piece that speaks directly to you.
At Family Woodworks LLC, our team of skilled craftsmen gives life to each creation with their expert hands. Their meticulous attention to detail, combined with years of experience and training, ensures that every piece is a work of art. Our craftsmen pour their hearts into every project, bringing out the inherent beauty of the wood and imbuing it with a timeless elegance.
But don't just take our word for it. Our satisfied customers are a testament to the quality and craftsmanship of our work. They continue to delight in their custom-made pieces, cherishing them as heirlooms that hold a special place in their homes and hearts.
We are also proud to be committed to sustainability in all aspects of our business. From minimizing waste to responsibly sourcing our materials, we strive to leave the smallest environmental footprint possible. We believe that preserving nature is just as important as preserving the art of woodworking itself.
History of Family Woodworks LLC
Family Woodworks LLC has a rich history that spans several generations, making it more than just a business. The legacy behind the craftsmanship sets Family Woodworks apart from other woodworking companies and shapes its values and principles today.
The founding story of Family Woodworks LLC is rooted in a passion for woodworking that has been passed down through the generations. The company was established by John Smith in 1950, who learned the craft from his father and grandfather. John's dedication to creating high-quality, handcrafted woodwork products laid the foundation for what would become Family Woodworks LLC.
Throughout its history, Family Woodworks LLC has stayed true to its core values of craftsmanship, attention to detail, and timeless design. These principles have been handed down from one generation to the next, ensuring that each piece created by the company reflects a commitment to excellence. Today, John's son, Michael Smith, leads the company with the same passion and expertise as his father before him.
Continuing the legacy established by their predecessors, Family Woodworks LLC blends traditional woodworking techniques with modern innovations to create masterful pieces that stand the test of time. The craftsmen at Family Woodworks combine skillful artistry with an unwavering commitment to quality and durability. Each piece is carefully crafted by hand using time-honored methods that have been refined over generations.
Preserving Traditional Techniques
At Family Woodworks LLC, preserving traditional techniques is more than just nostalgia – it's a way of honoring the craft's heritage and ensuring its continuation for years to come. By blending old-world practices with modern design sensibilities, they are able to produce pieces that are both classic and contemporary.
A Story of Passion and Dedication
The legacy behind Family Woodwork's craftsmanship is a story of passion and dedication handed down through generations. This intricate transfer of knowledge ensures not only exceptional quality but also an enduring sense of pride among the craftsmen who create each piece.
An Evolving Legacy
As time goes on, Family Woodworks LLC continues to evolve, introducing new techniques and designs while staying true to the values that have been central to their success. The combination of tradition and innovation allows them to create timeless pieces that are equally cherished by current and future generations.
Signature Creations
Timeless Furniture for Every Room
Family Woodworks LLC takes pride in creating furniture pieces that stand the test of time. Their signature creations encompass a wide range of items that can elevate the style and functionality of any home. From classic dining sets and elegant bedroom suites to rustic coffee tables and modern entertainment centers, Family Woodworks LLC offers something for every room.
One iconic creation by Family Woodworks LLC is their farmhouse dining table. Handcrafted from solid oak, this masterpiece features intricate detailing on the legs and a smooth tabletop that showcases the natural beauty of the wood grain. The attention to detail is evident in every aspect of this piece, from the precisely carved edges to the expertly applied finish that enhances its durability and longevity.
For those seeking a touch of luxury in their bedroom, Family Woodworks LLC offers a breathtaking canopy bed. Crafted from rich mahogany, this bed exudes elegance with its intricately carved headboard and footboard. The sturdy construction ensures that this beautiful piece will be passed down through generations while maintaining its impeccable quality.
Artistic Home Decor Pieces
In addition to furniture, Family Woodworks LLC also creates exquisite home decor items that add charm and character to any space. One such creation is their wooden wall art collection. Each piece is meticulously hand-carved and finished with precision, resulting in stunning designs that reflect nature's beauty or pay tribute to traditional craftsmanship.
Another standout creation by Family Woodworks LLC is their handcrafted wooden bowls collection. Each bowl is skillfully turned on a lathe using premium hardwoods such as walnut, cherry, or maple. The organic shapes and polished finishes make these bowls eye-catching focal points in any kitchen or dining area.
Custom Projects: Bringing Vision to Life
Family Woodworks LLC understands that every customer has unique preferences and requirements when it comes to furniture. That's why they offer custom woodworking services to bring their customers' visions to life. Whether it's a custom-sized dining table, a one-of-a-kind kitchen island, or personalized home decor items, Family Woodworks LLC collaborates closely with customers to create pieces that perfectly suit their style and needs.
One example of a customized project undertaken by Family Woodworks LLC is a bespoke bookshelf. Working closely with the client, the craftsmen designed and built a stunning bookshelf with adjustable shelves and intricate scrollwork details. The result was not only a functional piece but also an exquisite work of art that added character and storage space to the customer's study.
Family Woodworks LLC takes pride in their signature creations, which are not only meticulously handcrafted but also designed to be timeless pieces of art. With a commitment to quality and an unwavering attention to detail, each creation showcases the beauty and craftsmanship that define Family Woodworks LLC.
Quality Materials
Family Woodworks LLC takes pride in their unwavering commitment to using only the finest wood in their creations. The choice of premium materials is a fundamental aspect of their craft, contributing to the longevity and durability of their products. By carefully selecting the right types of wood and adhering to sustainable sourcing practices, Family Woodworks LLC ensures that each piece they create is not only beautiful but also environmentally responsible.
The company primarily uses hardwoods such as oak, walnut, cherry, and maple in their woodworking projects. These woods were chosen for their exceptional quality, natural beauty, and strength. They have been known for centuries as some of the best materials for furniture making due to their ability to withstand wear and tear while retaining their elegance over time.
To ensure that the wood used by Family Woodworks LLC is sourced responsibly, they partner with suppliers who share their commitment to sustainability. This means that the wood comes from well-managed forests where trees are replenished at a rate equal or greater than they are harvested. Additionally, they prioritize purchasing from local suppliers whenever possible to minimize transportation impact.
By using premium woods and upholding sustainable practices, Family Woodworks LLC demonstrates not only an appreciation for the beauty of nature but also a dedication to preserving it for future generations. Their conscious choices contribute to reducing deforestation and promoting responsible forest management practices.
In summary, Family Woodworks LLC's commitment to quality materials shines through in their selection of premium hardwoods and sustainable sourcing practices. Through this unwavering commitment, they ensure that each piece they create represents not only timeless beauty but also an environmentally responsible choice.
Customization and Personalization
At Family Woodworks LLC, we understand that every customer has their own unique vision and preferences when it comes to woodwork. That's why we offer a wide range of customization options to ensure that each piece we create is tailored to suit individual needs and tastes. Our commitment to customization and personalization sets us apart from other woodworking companies, allowing our customers to have a hand in the creative process and truly make each piece their own.
Whether you're looking for a custom dining table, a one-of-a-kind bed frame, or a special gift for a loved one, our team of skilled craftsmen will work closely with you to bring your vision to life. We take the time to listen and understand your specific requirements, ensuring that every detail is considered. From wood species and finish options to size specifications and design elements, no request is too big or too small for us.
To showcase our expertise in customization, let's delve into a past project where we were able to create a truly unique piece for one of our valued customers. Mr. Johnson reached out to us with an idea for a coffee table made from reclaimed barnwood. He wanted the table to have a rustic look with visible knots and imperfections but also desired sleek geometric lines incorporated into the design.
Our team collaborated with Mr. Johnson every step of the way, presenting him with various designs and wood samples until we achieved his desired aesthetic. We sourced high-quality reclaimed barnwood that still retained its original character, ensuring that it would become the focal point of his living room while blending seamlessly with his existing decor. The final result was an exquisite coffee table that not only met Mr. Johnson's expectations but exceeded them.
At Family Woodworks LLC, we take pride in making every piece unique by embracing our customers' ideas and turning them into reality. By offering customization services, we aim to create heirloom-quality pieces that not only reflect your personal style but also hold sentimental value for generations to come. Whether it's an intricate carving, a special engraving, or a specific wood species that holds significance to you, we are dedicated to making your dream woodwork piece a reality.
Skilled Craftsmen
Family Woodworks LLC takes great pride in the exceptional craftsmanship of their handmade woodwork pieces. Behind the scenes, their team of skilled craftsmen and artisans bring years of expertise and dedication to each creation. These expert hands are the true foundation of the company's success, ensuring that every piece is a work of art worth cherishing.
At Family Woodworks LLC, craftsmanship is more than just a job – it is a passion. The artisans employed by the company possess a deep understanding and appreciation for woodwork, honed through years of experience and training. They have mastered various techniques and methods to create intricate details, exquisite joinery, and flawless finishes.
When crafting each piece, Family Woodworks LLC's skilled craftsmen follow a meticulous process that involves careful selection of materials, precise measurements, and attention to detail at every stage. Their commitment to excellence means that no corners are cut in delivering the highest quality products to customers.
With their expertise, these craftsmen are able to transform raw wood into magnificent creations that showcase not only their technical skill but also an artistic vision. Whether it's a custom-designed dining table or an intricately carved cabinet, every piece crafted by these skilled hands becomes an embodiment of timeless beauty.
| Key Points | Details |
| --- | --- |
| Expertise | The craftsmen bring years of experience and training to their work. |
| Meticulous Process | The craftsmen follow a precise process that emphasizes attention to detail at every stage. |
| Artistic Vision | They are able to transform wood into magnificent creations that showcase both technical skill and artistic talent. |
Testimonials
Family Woodworks LLC takes immense pride in the satisfaction of our customers. Our commitment to creating high-quality, handcrafted woodwork products is reflected in the positive feedback we receive. Here are just a few testimonials from satisfied customers who have experienced the excellence of Family Woodworks LLC's craftsmanship firsthand:
"I recently purchased a dining table from Family Woodworks LLC, and I couldn't be happier with my decision. The attention to detail and quality of workmanship are second to none. The table not only adds elegance to my home but also serves as a beautiful gathering place for my family. It truly is an heirloom piece that I know will be cherished for generations." – Emily S.
"I wanted a custom bookshelf that would fit perfectly in my living room, and Family Woodworks LLC delivered beyond my expectations. They carefully listened to my vision and incorporated all the specific details I requested into the design. The end result is stunning. The bookshelf blends seamlessly with my existing furniture and has become the focal point of the room." – Michael R.
"I had been searching for a unique gift for my daughter's wedding, and Family Woodworks LLC came through with flying colors. Their personalized jewelry box was beautifully crafted with intricate designs carved onto the lid. My daughter was absolutely thrilled with the gift, and it now holds her most cherished possessions. Thank you, Family Woodworks LLC, for creating such an unforgettable piece." – Sarah M.
These testimonials provide just a glimpse into the impact that Family Woodworks LLC's creations have on our customers' homes and lives. Each piece is carefully made with passion and dedication, ensuring that it exceeds our customers' expectations.
At Family Woodworks LLC, we believe that every customer deserves exceptional craftsmanship and unparalleled service. We strive to create heirloom pieces that will be treasured for years to come, weaving lasting memories and stories within the grains of our woodwork. With the highest quality materials and skilled craftsmanship, we are committed to delighting customers one creation at a time.
Commitment to Sustainability
Family Woodworks LLC is not only dedicated to creating beautiful and timeless pieces of handcrafted woodwork but is also committed to preserving nature and minimizing its environmental impact. This section will delve into the company's sustainability practices and responsible wood sourcing.
At Family Woodworks LLC, sustainability is a core value that guides every aspect of their operations. The company takes proactive measures to reduce waste and minimize their carbon footprint. They prioritize recycling materials whenever possible and implement energy-efficient practices in their workshops. By embracing sustainable production methods, they ensure that their craft does not harm the environment.
One of the key ways that Family Woodworks LLC promotes sustainability is through responsible wood sourcing. They understand the importance of preserving forests and biodiversity for future generations. Therefore, they carefully select their wood suppliers who adhere to sustainable forestry practices. By using sustainably harvested wood from well-managed forests, they can create beautiful woodwork without depleting valuable natural resources.
To further support sustainability efforts, Family Woodworks LLC actively seeks out reclaimed and salvaged wood for their creations. Reclaimed wood not only adds character but also reduces waste by repurposing materials that would otherwise end up in landfills. Repurposing old, discarded wood allows them to breathe new life into it while reducing the demand for fresh timber.
In summary, Family Woodworks LLC goes above and beyond to ensure that every piece they create leaves a minimal environmental footprint. From reducing waste to responsible wood sourcing, their commitment to sustainability is deeply ingrained in their craftsmanship. By choosing Family Woodworks LLC, customers can have confidence that they are not only acquiring a stunning work of art but also contributing to the preservation of our planet's natural resources for future generations.
Conclusion
In conclusion, Family Woodworks LLC is a company dedicated to upholding the tradition of handcrafted woodwork and creating timeless pieces that can be cherished for generations. With a rich history and legacy behind their craftsmanship, the company is built on strong values and principles that have been passed down through the generations. Their commitment to using the finest wood materials and sustainable sourcing practices ensures the longevity and durability of their products.
One of the standout qualities of Family Woodworks LLC is their ability to customize and personalize each piece according to individual preferences and needs. They work closely with customers to create unique creations that perfectly complement their homes or spaces. This attention to detail and commitment to customer satisfaction sets them apart in the industry.
Behind every exceptional piece created by Family Woodworks LLC are skilled craftsmen who bring expertise, training, and meticulous dedication to every step of the process. Their passion for their craft shines through in every finished product, leaving a lasting impact on customers' lives.
Above all, Family Woodworks LLC is committed to sustainability, employing eco-friendly practices such as waste reduction and responsible wood sourcing. They strive to have a minimal environmental footprint while creating beautiful works of art.
In summary, Family Woodworks LLC embraces tradition while crafting excellence. Their dedication to preserving handcrafted woodwork shines through in every aspect of their business – from the premium quality materials they use to the customization options they offer customers. With each exquisite creation, they continue to create heirlooms that will be treasured for years to come.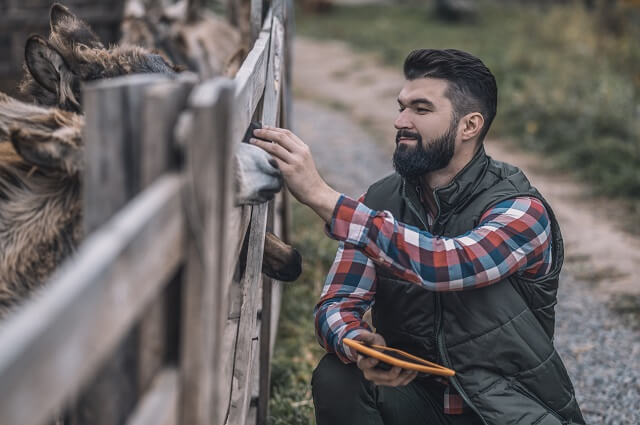 Hi everyone! I'm a woodworker and blogger, and this is my woodworking blog. In my blog, I share tips and tricks for woodworkers of all skill levels, as well as project ideas that you can try yourself.