Connecting to the Local Community
At Sloan Woodworking, we value our connection to the local community. We strive to make a positive impact by employing local talent, partnering with small businesses in the area, donating to numerous charities, and supporting many other initiatives that benefit our neighbors.
In addition to hiring locally, every product made at Sloan Woodworking is also exclusively sourced from local suppliers. This includes materials like sustainably harvested wood and metal alloys which are crafted together by highly skilled artisans in the surrounding area. Partnering with these smaller businesses encourages economic growth within communities and helps to cultivate an environment for creative collaboration.
The donations made by Sloan Woodworking have been especially powerful in helping those in need throughout the local community. Whether it's providing furniture for low-income housing or furniture for a charity auction – every contribution plays a role in helping our neighbors. Even through troubled times, we continually seek other ways to give back such as hosting workshops for youth and contributing work supplies and resources for schools throughout the community. Our products have even helped beautify public parks and other city spaces, bringing more life and beauty into everyday settings where people come together to enjoy nature or outdoor activities.
At Sloan Woodworking we recognize that our success comes from our relationship with the community around us; it is thanks to their ongoing support that has allowed us thrive over many decades of business. As such, it is our duty to ensure that every action taken has a lasting positive effect on both customers as well as those around us. We are deeply committed to uplifting our community year after year – shaping a brighter future built on collaboration and goodwill of all its citizens!
Expert Tips and Advice
Sloan Woodworking offers expert tips and advice for any aspiring or experienced woodworker or furniture maker. Our experts are knowledgeable in a variety of topics, from furniture design and construction, to carpentry techniques, tool maintenance and safety. We understand that creating your own furniture takes time, dedication, and accuracy so we provide helpful tutorials to ensure you get the most out of your projects. Our website provides step-by-step guides that are easy to follow, making any job simpler. We also provide insider tips from our professionals on topics like finishing techniques, selecting the best materials and paints, using special tools and machines efficiently, and taking care of both hand tools and power tools properly. In addition, information on maximizing the longevity of your creations with durable treatments is available through our blog posts written by seasoned professionals.
Product Spotlight
Sloan Woodworking specializes in high quality custom wooden furniture. Our products are designed to fit into any home décor style, from modern and contemporary to traditional and rustic. All of our pieces are made with expert craftsmanship, using only the finest materials available. Each item is carefully handcrafted and inspected before shipping, ensuring that each customer receives a piece that is truly one-of-a-kind.
Our product line includes dining tables, chairs, sofas and armchairs, shelves, cabinets and other storage solutions. We also offer complete bedroom sets as well as individual mattresses and bed frames for every size bed. Our woodworking also extends to specialty items such as entertainment centers and TV stands as well as unique accent pieces like benches, wine racks, side tables and more.
We pride ourselves on creating unique pieces that stand apart among the competition. Whether you need something for your living room or bedroom, our skilled artisans will work hard to provide you with a classic piece of furniture that will last generations. We can also customize most orders to create something truly special and reflect your own style preferences that no other store may be able to provide. With Sloan Woodworking products in your home, you know you're getting a timeless piece of masterful craftsmanship that will never go out of style!
Share the Story
Sloan Woodworking is a small, family-owned business with a big heart. It was started by grandson and grandfather, Lenny and Frank Sloan. When Lenny was just a young boy, his grandfather showed him the intricate art of woodworking — something that he had been practicing for decades. From that day onwards, Lenny would help his grandfather in the workshop on Saturdays and Sundays and eventually started to develop an understanding for the craft himself.
Now, as adults, Lenny and Frank work side-by-side in their small shop to bring their customers unique and beautiful pieces of furniture. Every piece is special to them because it's crafted with love: each one is made with dedication to both the customer and their very own family tradition of craftsmanship. The two share this dedication every day in the shop — from early morning coffee discussions about upcoming projects to carefully selecting materials for each creation.
Not only are they dedicated to honoring traditional techniques but also take an innovative approach when designing modern furnishings; there's no detail that goes overlooked or disregarded by these master woodworkers. From detailed carving designs to creating complex shapes out of raw wood, Sloan Woodworking has become known as a place where dreams turn into reality through their passion for creating timeless pieces with lasting beauty. The Sloans understand the importance of passing their legacy down through generations, so when you purchase something from their shop you're not just buying furniture–you're owning a piece of family history maintained with care
Show Off the Talent
Sloan Woodworking prides itself on its craftsmanship and attention to detail and the talented team of professionals behind it. In order to show off their talent, Sloan Woodworking should feature profiles of their craftsmen, highlighting the skills and passion for their craft. Each profile should explain what inspires these craftsmen and how they hone their abilities to meticulous perfection. Photos of each craftsman hard at work, zooming in on detailed projects, can also be included in the profiles. By showing off the talent through a profile of each craftsman, Sloan Woodworking can attract more business with an enthusiastic display of knowledge and skill. Additionally, featuring a profile allows potential customers to get to know the exceptional individuals behind this amazing work, giving them a personal connection that sets Sloan Woodworking apart from other businesses
Woodworking How-To
Step 1: Select a project. Choose an easy, mid-level or difficult woodworking project based on the level of skill and complexity you're comfortable with. Consider the size and scope of the project when selecting one.
Step 2: Gather tools and supplies. Make sure you have all the necessary tools to complete your project before beginning any work, including adequate saws, hammers, screwdrivers, sandpaper and other supplies.
Step 3: Assemble pieces. Cut the pieces according to your plan if needed and use an appropriate adhesive to hold them together temporarily.
Step 4: Finish assembly. Securely fasten each piece using screws or nails if needed; this will ensure that it is secure for use in the future. Make sure everything lines up properly as you construct your project by using a square or ruler as needed for accuracy.
Step 5: Sand down your pieces for smoothness. Use emery cloth to remove rough edges from individual pieces if desired and power sanders for larger surfaces; being careful not to over-sand any area of the project.
Step 6: Apply finish. Choose a finish that suits your intended function such as polyurethane or varnish for detailed woodworking projects; oil based stains mellow out natural wood colors while water-based stains bring out more vibrancy in the grain patterns of wood projects.
Photo Gallery
Sloan Woodworking is dedicated to providing exquisite handcrafted wooden furniture and decorations. We specialize in creating pieces that impress with elegant styles, timeless designs, and remarkable attention to detail. Our team of experienced craftsmen are committed to quality and a commitment to ensuring that our clients' vision is brought to life.
By including stunning photos of our completed projects in our photo gallery, we not only provide evidence of the quality of our craftsmanship, but also give potential customers a glimpse into the types of custom furniture pieces we can help create for them. Alongside stunning detailed images showcasing each step in the process – from design and construction through to completion – we showcase striking finished products that range from sleek modern designs to cozy traditional pieces.
Our photo gallery provides a comprehensive record detailing all the work that goes into creating highly personalized woodworking works of art. Plus, it gives visitors an opportunity to get inspired by seeing what is possible when they put their trust in us at Sloan Woodworking.
Giveaways & Promotions
Sloan Woodworking aims to provide its customers with a wide range of high quality goods that are made using the finest materials available. Customers can now take advantage of great discounts and promotions by engaging with Sloan Woodworking's giveaways and promotional offers. There is no purchase necessary to participate, as long as you are a reader of the company's website or social media platforms. Readers who complete surveys and quizzes related to the company's products or services are able to get exclusive discounts, vouchers, and prize draws for top level items such as custom furniture packages. Additionally, those who subscribe to the company newsletter have access to early bird deals on new releases, as well as free shipping on certain orders. With these promotional offers, Sloan Woodworking strives to give back to its customers with exclusive rewards.
Inspiring Quotes
Sloan Woodworking has been crafting beautiful sustainable furniture for over twenty years. By using only local trees harvested in a sustainable way, they ensure quality and sustainability. They take pride in making furniture that will last generations and to be considered real family heirlooms. At Sloan Woodworking, they believe that craftsman should inspire inspirational quotes about craftsmanship because it helps spread the message of sustainable practice and hard work to the community. When a quote is shared, it serves as a reminder to those who see it that quality is important, preserving what you have is essential, and cherish every single piece made from your own hands. Crafting a piece of furniture can feel like a daunting task but by looking at motivational quotes about craftsmanship, it can provide encouragement and help prevent perfectionism from frustrating potential makers. Quotes like "Do something today that your future self will thank you for" or "The best things are made with the heart not the hands" help remind creators why they love woodworking and all that comes with it. So grab a hammer, pick up some wood – find motivation with inspirational quotes about craftsmanship provided by Sloan Woodworking!
Social Media Shout-Out
Sloan Woodworking can use social media to celebrate their fans and followers by highlighting their creative projects. This is an excellent way to show appreciation for their customers while also growing the Sloan Woodworking community. Strategies they may use to spotlight their customers' creations include creating special hashtags, featuring work on the accounts of related companies, reposting photos and videos of customer projects, holding competitions for the best original woodworking project, offering exclusive discounts or gifts to those with popular posts, or giving interviews and shoutouts based on customer successes. Doing this will create a loyal and engaged audience for Sloan Woodworking. It will also demonstrate that that the company cares about its patrons and value them as important members of the larger woodworking community.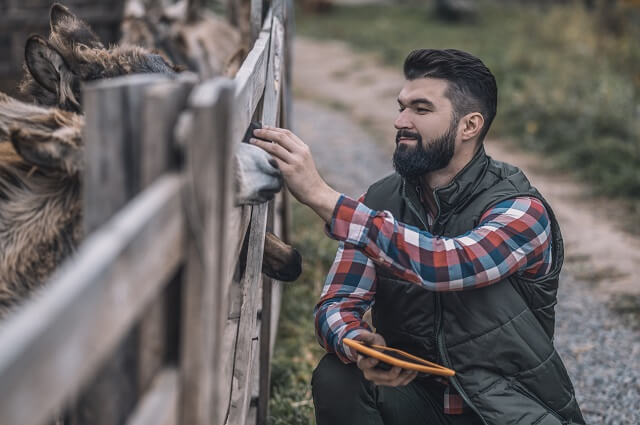 Hi everyone! I'm a woodworker and blogger, and this is my woodworking blog. In my blog, I share tips and tricks for woodworkers of all skill levels, as well as project ideas that you can try yourself.