Introduction
When using dark woodwork in your design, color can be a great tool to really bring out the wood's character and make your space stand out. Color has the power to serve many purposes such as setting a mood, making the room appear larger or more intimate, and most importantly, emphasizing the features that you want to draw attention to. While using color in any space should always be thoughtfully considered, this guide will help you break down some of the best and most popular choices for flooring when dealing with dark woodwork.
The tones of dark woodwork range from deep walnut or mahogany hues to our contemporary wenge or ebony. Depending on the specific tone you choose, different colors may be necessary to help balance it out. Using light colored floors will often provide enough contrast between the two materials, complementing each other without creating too much tension in the room. Cool tones such as grays, blues and greens work particularly well with darker woods because they pair nicely together and create a cohesive look. You could also consider brighter color schemes if you are aiming for a more dynamic feel in your space. Vibrant yellows, oranges or reds can serve as good options since they will provide stark contrast against all types of wood surfaces while still maintaining a modern aesthetic.
Ultimately, when choosing flooring colors to go along with dark woodwork it is important that any choice you make serves its purpose: bringing out the beauty of your unique design while tying all materials together cohesively. Keep these ideas in mind when deciding what colors would best suit your environment!
Why Color Matters
When choosing flooring to install in a room that features dark woodwork, it is important to consider the impact of color. Color must be carefully selected in order to balance out the strong presence of dark wood, creating a cohesive and pleasant room aesthetic. A wrong choice of color could result in an imbalance or clashing effect due to the difference between materials and tones.
Cooler tones like blues and greys can be used to help soften and open up the space when working with dark woodwork. This will create a calming atmosphere, complimenting the dark wood and preventing saturation of tones. Warmer colors such as browns and tans can offer an ideal contrast against dark wood, creating texture and adding depth to the room's look.
In addition, color also impacts natural lighting within a space; light reflecting off surfaces increases darkness while muted hues absorb light, helping to keep it bright without added support from artificial sources. This is why lighter shades are best chosen if natural lighting is limited but desired within the room setup.
Overall, understanding how color works in tandem with other furnishing materials allows for knowledgeable decision-making when selecting flooring for any interior design project involving dark wood finishes or décor pieces.
Dark Woodwork Considerations
When selecting a color of flooring to pair with dark woodwork in your home, there are several considerations you should take into account. The type of room, amount of natural light, size of the space, and style that you want to achieve can all influence which type and color of flooring might work best with your existing design. Lighter colors like cream, eggshell or white will be perfect for an open concept room where brightening the area is key. Darker tones such as brown, gray or espresso may be more suitable for smaller spaces where you want to bring in some warmth and drama. Beige or taupe hues offer the best option for blending darker wood furnishings into the background and help balance any bold accent items on display. You can also use rugs to add playful pops of color for contrast—think pastels against dark woods or rich jewel tones. Patterned options can add a hint of interest and texture, too. Ultimately, it's important to select what feels right while maintaining an aesthetic that fits in with your specific décor vision.
Contrasting Colors
One way to create a interesting and eye-catching interior design look is to use contrasting colors with your dark woodwork for flooring. This can be done in various ways, depending on the look that you are trying to achieve. For example, if you have dark brown woods for trim and furniture, then you could pair it with a lighter flooring such as beige or ivory. If you choose more of an off-white tone for the walls, then a medium brown flooring would coordinate nicely. You might even consider adding jolts of colorful area rugs or runners to bring color into the mix as well.
You can also look at incorporating other warm tones such as gold, rust or cinnamon hues in different shades to draw attention to certain areas and give the entire space a unique and inviting appeal. If you're going for a cozy farmhouse feel instead, then brick reds, pale blues and sandy tans might work better for your overall design plan. Mixing different textiles and materials is also another great way to bring in pops of color and texture; some ideas include granite countertops with travertine tile accents, medium-tone hardwood floors paired with geometric patterned area rugs.
Ultimately it depends on your individual taste when pairing contrasting colors with dark woodwork but exploring different combinations is always worthwhile when it comes to creating an eye-catching space!
Color Combos
One of the most popular choices for flooring with dark woodwork is to incorporate light colors, such as cream-colored or beige tiles. This creates a warm and inviting atmosphere within the room as the light colors brighten up the entire space. Additionally, using lighter hues on your floor can make a small room appear more open and spacious. For larger rooms with high ceilings, you might choose to go with darker shades in order to add a more intimate feel.
If you are looking for an even bolder statement piece, then consider pairing your dark woodwork with striking black and white tile designs. Neutral colors such as gray or taupe also look great when paired with dark wood panels for an airy and sophisticated look. Finally, if you are going for a classic aesthetic in your home, then opting for intricate designs in browns and greens will provide interesting contrast to the dark woodwork while simultaneously grounding the room.
Examples
* Light gray tile or laminate floors with dark cherry woodwork
* Ivory hardwood floors with ebony trim
* Beige stone tile paired with walnut woodwork
* Caramel hardwood floors with espresso moldings
* Off-white terrazzo flooring and dark mahogany trim
* Tan tile floors and natural oak accents
* Taupe carpet combined with stained cherry trim
Tips and Tricks
When working with dark woodwork and flooring, the key is to create balance. As such, light-colored flooring can contrast nicely with dark woodwork and vice versa. Consider using a rustic brown or gray laminate to pair with dark wood trim; alternatively, consider white planks or tiles to provide a clean but elegant look. If you want something even lighter or brighter on your hardwood floors, opt for beige or off-white engineered hardwood. Another interesting combination is muted ceramic tiles, which have hints of blues grays and other tones running throughout them that will complement many shades of darker stain and woods. When dealing with darker walls and furniture pieces, try pairing the space with light toned carpets in order to add some visual interest and dimension to the space. Lastly, keep in mind texture when pairing different types of flooring together: choose what looks best alongside both woods based on specific patterns rather than just color alone as it can enhance the overall look even more.
Conclusion
When working with dark woodwork, it is important to consider the color of the flooring. Dark woodwork will draw the eye and become a feature in a room, while light colored flooring can help to enhance this feature by providing an attractive contrast. This can help create visual interest and bring balance to the space. It is also key to think about how well any other elements in the room, such as furniture and wall paint, fit together with the flooring and woodwork combination. Choosing complementary or contrasting colors can help deliver a successful design that looks both inviting and professional.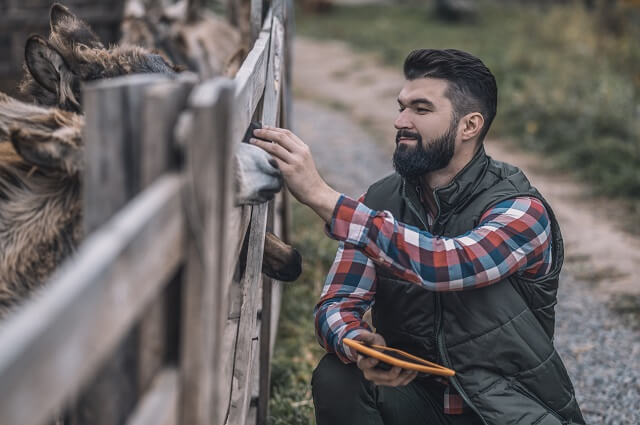 Hi everyone! I'm a woodworker and blogger, and this is my woodworking blog. In my blog, I share tips and tricks for woodworkers of all skill levels, as well as project ideas that you can try yourself.