Introduction to Woodworking Joints
A joint in woodworking is a type of connection between two pieces of wood. Joints may be glued and nailed, screwed, or other forms of mechanical connection that rely on the strength of materials themselves, such as dowels, mortise and tenon joints, or dovetails. Woodworking joints come in different sizes and shapes and can be used to add strength or decorative value to a project.
There are three basic types of woodworking joints: non-permanent connections such as butt joints, lapped joints, and miter joints that rely solely on nails; semi-permanent connections such as biscuit joinery, dovetail joinery, and rabbeted joints that require careful fitting; and permanent connections such as dowel joining that must be accurately machined to create strong relationships between parts. In addition to these main categories, there are numerous specialty joint techniques designed for specific applications like furniture making or cabinet making that use highly specialized joinery techniques.
To determine which type of joint will work best for your application, consider the function and aesthetics you wish to achieve with your project. No single type is suitable for all intended uses – some are stronger than others; some are more visually appealing than others; some provide more flexibility in joining components together; some require advanced tooling whereas others can often be achieved with just hand tools.
Connecting Two Pieces of Wood
A joint in woodworking is a junction of two or more components where the pieces are connected together in order to form a stronger structure. Different techniques for creating joints allow woodworkers to create structures of varying strength and complexity.
Common types of joints include butt joints, mortise-and-tenon joints, dowels (banister style), doweled miter joints, bridle joint, tongue-and-groove, box lap joint and dovetail joints. There are also several variations of each type to suit different projects.
Adhesives like glue play an important role when constructing a joint – they are often used with mechanical fasteners like screws or nails to add stability and rigidity during assembly and improve overall durability over time. Open air curing adhesives such as epoxy or polyurethane foam tend to be strong enough for use on most large scale projects while using lower cost options like yellow glue on smaller items. In some challenges construction adhesive can even replace mechanical fasteners entirely; this is particularly beneficial for creating seamless aesthetics when two pieces need to look flush after being joined.
Dovetail Joints
A dovetail joint is a type of woodworking joint that consists of interlocking 'fingers' commonly used for joining two pieces of wood at an angle. They are mostly seen in traditional furniture, drawers and box lids. Dovetail joints create a strong and stable connection due to the wedge-like shape the 'fingers' form when they fit together and can be made using either hand tools or power tools.
The benefits of using dovetail joints include added strength and stability, as well as adding visual appeal to the woodwork project. There is also less waste of wood when constructing it compared to biscuits, Dowels or other types of joints. To make a dovetail joint by hand, careful preparation must be taken with marking out each section accurately before cutting. Replicating the shape can be time consuming but once completed will allow you to construct strong lasting joints with precision and accuracy. Power tools such as routers give you the ability to cut deeper more accurate cuts in a much faster time frame compared to hand tools but care must still be taken to ensure a good quality finish is maintained throughout the build process
Mortise & Tenon Joints
A mortise & tenon joint is a type of joinery often used in woodworking. It consists of two parts, the first being the tenon which is carved into one board and then inserted into a hole called mortise on the other board.
This joint offers superior strength when properly installed compared to other joints like dovetails or dowel joints because it uses an interlocking of opposing parts which resists movement when put together. The mortise & tenon joint provides an incredibly strong connection that ensures your work will last for years to come or even for generations.
To create this type of joint one must first determine the location and size of the mortise and tenon, cut the boards so that they fit snugly together, chisel out the mortise from both sides and then secure everything with fasteners or glue, depending on the situation. Some techniques may also require wedging to ensure a tight fit of the boards.
It's important to note that while this joinery technique can be used in almost any application, a few scenarios require extra care and precision in order to function properly such as when using thinner (1/2inch) materials or if you are trying to make an angled joint between two boards. In these cases it's generally recommended to practice on scraps before moving onto your project piece as mistakes at this stage can be very costly if done wrong
Biscuit Joining
A biscuit join is a type of wiring used in woodworking to add strength and stability to an existing joint. This type of joint works by inserting biscuits into cut slots in the two pieces being joined together. The biscuit itself is made from compressed dry wood fibers, which absorb water and expand as they come into contact with moisture, creating an almost glue-like connection between the two pieces of wood. This method of joining has become popular among novice to master woodworkers due to its ability to create both strong and aesthetically pleasing joints. It also offers time-saving advantages over traditional methods such as dowel or mortise & tenon construction. Biscuits are available in different sizes and materials and require tools commonly found at most home improvement centers.
Butt Joints
A butt joint is the most basic of all woodworking joints. It's simply two pieces of wood held together by edge-to-edge contact. Butt joints are very popular in amateur woodworking because they are easy to assemble with tools most people have access to, such as a hammer, saw and drill.
Pros of using a butt joint include:
1. Aesthetically pleasing aesthetic – As the two pieces of wood are usually flush against each other, it makes the final product look polished and professional. This is why butt joints are used heavily in furniture construction like table and shelf building.
2. Price effective– Compared to more complex joints, a butt joint requires less hardware, which can often make it more economical as you don't have to buy as many screws or dowels for example.
3. Easily constructed – As mentioned earlier, making a basic butt joint only requires simple tools so hobbyists and beginner builders will find this joint easy to use even if they haven't had much experience with woodworking before.
Cons of using a butt joint include:
1. Low rigidity – Due to the fact that this type of connection only holds two pieces of wood together at their edges, it may be too loose for some applications where rigidity is important (e.g shelves). This can easily be solved however by using additional fastening elements such as screws or nails to hold the connection together more securely or installing 'stop blocks' on either side of the joint during assembly, which prevent it from pulling apart over time. Without these additions, however, there may still be some degree of movement in the connection point that causes instability in the product when under load (e.g objects placed on shelves might end up on the floor!).
2 Reduced strength– On top of lacking in rigidity, this type of joinery also lacks some strength compared to other types joints due its face-to-face construction that leaves a large portion detached and unsupported between them – this can result in separation over time if not reinforced properly through additional means such as screws/nails etc., thus weakening your overall construction project even further!
List of Common Applications of Woodworking Joints & Their Uses
1. Dovetail Joints: Traditionally used in cabinet making, a dovetail joint is considered to be one of the strongest and most reliable joints for woodworking projects. It consists of pins cut to extend from the end of one board interlocking with a series of tails cut into the end of another board. These joints are commonly used to join two pieces of wood at right angles and hold them together without any additional support or glue.
2. Biscuit Joints: A biscuit joint is a form of mechanical connection made by joining two pieces of material together using biscuits or oval-shaped wooden pegs that are inserted into circular slots. This type of joint is generally used to align panels correctly, help stabilize parts and provide additional strengthening strength when doweled in place.
3. Mortise & Tenon Joints: This type of woodworking joint involves utilizing hollowed out areas (mortises) in one piece that fit precisely around solid protrusions (tenons) on another piece; each tenon fits perfectly into its corresponding mortise as if created for it alone. The tenon and mortise are held together securely with glue, screws, nails or wedges, making them preferred among woodworkers who want maximum strength when joining two pieces together.
4. Miter Joints: Miter joints are made by connecting two pieces at an angle other than 90 degrees via precise beveling cuts, creating a miter angle at the junction between them; these types of joints can visibly increase the overall aesthetic appeal when done properly, as well as adding strength where needed depending on the angle and application utilized within a project.
5. Dowel Joints: Doweling is simply the insertion of wooden pegs – called dowels -into adjacent components providing joint reinforcement beyond what can be accomplished with glue alone; once drilled together, dowels should add uniform strength dispersal throughout the entire connection area rather than scattering it along multiple points creating weak spots along their extended length area like other traditionally utilized screws would do over time if loosened through constant contact/repetitive movement/etc…
Conclusion
A joint in woodworking is a method of connecting two or more pieces of wood together. They are used to join the edges of boards, panels and other wooden components, forming strong and invisible bonds. Joints can be made out of mortise and tenon, dowels, biscuits, rabbets, half lap and many other styles. The type of joint used depends on the application and the strength requirements desired by the craftsman.
When working with wood, it's important to not only select the right type of joint but also account for humidity changes and seasonal expansions in order to ensure a perfect fit year-round. Glue should always be applied to all joints that require an adhesive bond; epoxy being one of the most popular choices because it resists water infiltration. Clamping your work is also essential in order to keep your joints tight while they dry.
For a more lasting connection, screws can be added to reinforce your joint; pocket screws are commonly used for butt and miter joints as they provide superior holding power with minimal marring of your material's surface. Dowel pins can also be added for extra strength but require drilling accurate holes before inserting them which can take some time depending upon your drill setup.
No matter what type of joint you are using, a common practice among woodworkers is testing its integrity before committing fully through measurements or physical tests such as tapping on it or attempting to pull apart any pieces connected by glue and clamping pressure. This allows one to make adjustments prior to final assembly if necessary before adding finishing touches like stain or paint. With proper preparation and installation techniques, you will be able to reap the benefits from carefully crafted joints for years to come!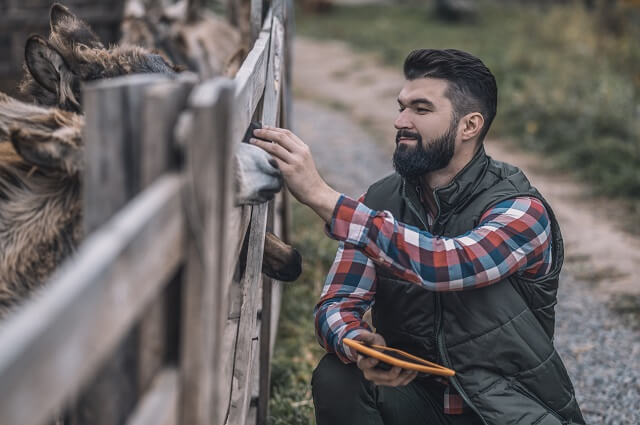 Hi everyone! I'm a woodworker and blogger, and this is my woodworking blog. In my blog, I share tips and tricks for woodworkers of all skill levels, as well as project ideas that you can try yourself.