Introduction
2x4s are a great material to use for woodworking projects. They are strong, sturdy and relatively inexpensive compared to other lumber options. Plus they are easy to find at most home improvement stores. Working with 2x4s gives you plenty of options when it comes to creating home décor items such as shelves, chairs, tables and picture frames. You can also build useful things like birdhouses or dog houses with 2x4s. You can even get creative and make intricate patterns or shapes out of the wood pieces. With limited supplies and a handy saw, the possibilities with 2x4s are endless!
What You'll Need
When working with 2x4s, you will need an array of essential tools. This includes a hammer, table saw, circular saw, jigsaw, screwdriver, drill/driver, and nails.
An air compressor and nail gun are also beneficial when attempting to complete projects with 2x4s. An air compressor allows you to connect the nail gun tool directly to the unit so that it is capable of powering staple guns and pneumatic finish nailers. Pneumatic finish nailers allow you to insert nails into even harder materials such as particle board or MDF board.
If you're planning on making more intricate cuts than just straight cuts with your 2x4s then you should invest in a miter saw which is capable of making precise angled cuts, bevels and compound angles for any type of woodworking project.
A router could also be considered an essential tool for those working with 2x4s since it can easily cut shapes, designs and textures into the wood pieces. To make sure these jobs are done correctly and safely, you should consider investing in protective goggles or shield glasses too; this will ensure that any wrenching force from a power tool won't enter your eyes.
How To
Woodworking with 2x4s is a great way to get started in the craft of woodworking. With minimal supplies needed, most DIYers will already have many of the tools needed for simple projects such as building bookcases, playhouses and even small furniture. Before beginning any project, be sure to properly measure out the material needs and cut your pieces with a saw or jigsaw.
To ensure that your cuts are straight, use a miter saw if possible. It can save time as it makes cuts quickly and accurately. If you don't have access to a miter saw then you can use other power tools or hand saws like coping saws. After cutting your pieces, use sandpaper to smooth any rough edges that may be present on the surface.
Once all of your pieces are assembled and throughly sanded, its time to start joining them together. Depending on the simplicity or complexity of the design, nails, screws or wood glue can be used for this step in the process. Nails are often much quicker than screws and make for easy removal should something need changing later on in construction; however screws should always be used when creating large loads such as furniture because they withstand more weight load than nails alone do when joined together correctly. Wood glue can also be used in several applications where lightweight strength is necessary but won't support faces by themselves.
Finally when all of your pieces are connected together it is important to use a finish that will protect them from the elements and help them last for years to come. Whether it's a wax finish, oil finisn or a decent sealer/stain combination- there are plenty of options available at hardware stores to keep your woodworking projects well protected!
Get Creative
2x4s are an incredibly versatile lumber option that can be used to create a variety of amazing woodworking projects. With 2x4s, you can craft basic functional pieces of furniture such as tables and chairs, as well as more elaborate woodworking projects such as shelves and frames. Here are some creative ideas for projects you can make with 2x4s:
1. A Platform Bed " If you're looking for a sturdy bed frame that won't break the bank, look no further than the humble 2×4 platform bed. All you need is some strong plywood, screws and, of course, several 2×4 beams to construct one of these timeless pieces! Customize yours by adding in decorative touches like head-board lighting or decorations.
2. An Outdoor Bar " Put your deck or patio party into full swing with this project! Put together several 2×4 beams to build a solid outdoor bar with plenty of counter space for drinks and snacks. You can also build in various shelves and compartments underneath for storage purposes, or even install a sink!
3. A Kitchen Island " Transform your kitchen into another level with this clever DIY project! Construct a sturdy island complete with shelves and drawers using only 2x4s " the sky is really the limit when it comes to design details here. Consider including wheels underneath so the island can be moved around easily if needed.
4. An Entryway Bench " Nothing says "welcome home" like a beautiful bench at your entryway! Built from several 2×4 beams, your finished product will provide a great resting area for coats and shoes while lending an inviting touch to any space " the perfect combination if we do say so ourselves!
Master The Craft
Using 2x4s for advanced woodworking projects can be a challenge, especially if one is unfamiliar with woodworking or just starting out. Here are some tips and tricks to help those wanting to tackle more complex projects with these relatively inexpensive boards of lumber.
First, it's important to select quality 2x4s that are straight and true. This is particularly essential when making boxes and furniture since accuracy affects the end result. Inspect the lumber before cutting or adjusting dimensions to ensure all pieces that will go together match perfectly; otherwise, pieces may not fit properly when assembled. With simple projects such as shelves this requirement may be reduced slightly, as precision isn't quite as critical.
Another useful tip for advanced woodworking projects is to use clamps to hold accurately positioned parts together until the glue dries, ensuring everything stays in place after assembly. To save time on such projects where accuracy is important, make templates from hardboard which can easily be adjusted if needed " then use these templates for cutting precise shapes from the 2x4s with a jigsaw or router table quickly and accurately.
Finally, finish the project with preparation for painting and/or staining by sanding gently but thoroughly across grain directions until smooth to the touch. Once every piece has been prepared correctly and thoroughly dried out after staining, furnishings can then be constructed using various joining techniques such as pocket screws or dowels depending on requirements and preferences.
Ideas for Upcycling 2x4s for Unique Woodworking Projects
1. Create a rustic storage chest " Take two 2x4s, cut into four pieces each that are of equal length and width, then assemble them into a box frame by attaching them on all sides with wood screws. Paint or stain the 2x4s to give your box an attractive finish. Add wheels to the bottom of the frame for easy storage and transport or use small handles to carry it around the house.
2. Make a garden arbor " Use four 2x4s cut according to the desired dimensions and connect them together to form an arch with wood screws or nails. Paint or stain the arbor and add decorations like hanging plants, trellises, or lattice screens on either side. It's perfect for creating a beautiful walkway in your backyard and can hosts events like small outdoor weddings or parties as well.
3. Build a playhouse for kids" Using 2x4s construct walls, a roof, windows, and doors for this playhouse project -all with hinges for easy opening and closing doors plus extra decorations like flower boxes at each window for added fun! Use exterior paint in bright colors to create awesome visuals both inside and outside of the playhouse.
4. Build an outdoor bench" A great way to use leftover wood is this bench which involves cutting eight pieces of 2x4s in different sizes – four long pieces (for seat and backrest) and four shorter pieces (for legs). Once all 8 pieces are secured together; you can sand it down with sandpaper to get it smooth before painting or staining it in any color you like!
Conclusion
2x4s offer a wide range of possibilities when it comes to woodworking projects. Whether you're crafting more complicated pieces like chairs and tables or something simpler like cutting boards and photo frames, the basic 2×4 is an incredibly versatile material that can be used to create practically any item of furniture or decor you could desire. With the proper tools, carpentry skills, and knowledge on joinery, 2x4s offer a creative potential for beginner and professional carpenters alike. Unlock your creativity and explore the seemingly endless list of possibilities with these commonplace yet exceptional materials.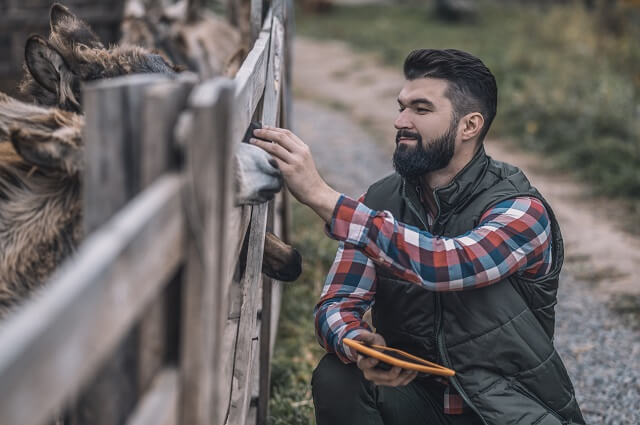 Hi everyone! I'm a woodworker and blogger, and this is my woodworking blog. In my blog, I share tips and tricks for woodworkers of all skill levels, as well as project ideas that you can try yourself.