Introduction to Bear Creek Woodworks
Bear Creek Woodworks is a family owned and operated business based in the Northwest region of the United States. We are committed to creating high quality, unique furniture pieces that are both beautiful and functional. Our gallery features everything from tables and chairs to beds and shelves – all custom crafted using only sustainable materials.
Our skilled carpenters have been perfecting their craft for over two decades, honing their skills so that you can showcase your creativity through our products. By partnering with architects, builders, and clients we can create custom designs that match world-class aesthetics at affordable prices – no job is too big or small!
At Bear Creek we also value sustainability; we implement environmentally-friendly practices throughout our entire workspace in order to help preserve the planet for future generations. We go out of our way to source reclaimed wood from sustainable sources, with each piece handcrafted with precision and care. All furniture finishes use non-toxic Eco-friendly products, ensuring a safe living environment inside your home while helping the environment outside your home.
With unparalleled customer service and excellent craftsmanship, Bear Creek Woodworks is dedicated to continuing its tradition of creating timeless masterpieces – each one as special as its owner. Every project receives special attention so it can become an expression of individual style and beauty – turning homes into work of art!
History of the Company
2000: Bear Creek Woodworks is founded by two brothers in a small workshop located in the woods of central Oregon.
2004: The brothers hire their first employee and move to larger premises.
2007: The company introduces a new line of furniture made from recycled wood sourced from local sawmills.
2010: A successful Kickstarter campaign launches to further develop the company's product range and expand its customer base.
2013: The company is featured in multiple home decor magazines and begins expanding their online presence.
2015: Bear Creek Woodworks celebrates its 15th anniversary with the opening of its new showroom, complete with custom design service for customers who want something truly unique.
2017: An ambitious expansion plan is implemented that results in five new stores being opened across the country over the next 18 months.
2020: A partnership with an international shipping company is established, making it easy for customers across the world to order Bear Creek's products quickly and cheaply.
Quality Craftsmanship/Production Process
At Bear Creek Woodworks, we focus on the quality and craftsmanship of every piece of woodwork that we create. We take great pride in our production process to ensure that each item produced meets the highest of standards. All the wood we use is carefully sourced from sustainably managed forests and is handled lovingly with consideration of its grain, texture and overall character. Our staff are all highly trained and experienced craftsmen who make sure no detail is overlooked as they shape it into a beautiful work of artistic expression.
Once shaped, sanded, stained and finished, our pieces are inspected again for any blemishes or inconsistencies before being sent off for shipping or delivery. We take great pride in our products and strive to provide each customer with the highest level of satisfaction by creating one-of-a-kind pieces that you can be proud to display in your home or office for years to come.
Expert Team
Bear Creek Woodworks is a unique family-owned business that has expert craftspeople on staff, allowing them to create truly custom woodworking pieces with stunning results. The master craftsmen on staff have extensive experience in the craft, having honed their skills for years. This expertise gives them the ability to happily take on any custom design challenge and bring customers' visions to life.
The benefit of having such capable hands working at Bear Creek Woodworks is that each project is given individualized attention in hand-craftsmanship, resulting in pieces with timeless elegance and quality. This means that whatever your vision may be, you can do so knowing that your project will receive the highest level of craftsmanship and artistry available. Furthermore due to their familiarity with the craft, they can recommend methods and materials that suit your space and style best while offering specialized advice you won't find elsewhere. All of this enables their products to stand out from the rest and makes them a great investment for years to come.
Customer Reviews
Bear Creek Woodworks aims to provide the best quality and most stylish custom-made woodworks for every customer. We are proud to showcase our vast selection of satisfied customers with their positive reviews about our top notch services. Our customers have expressed great appreciation for our accurate craftsmanship, high quality materials, and quick turnaround time. Additionally, they have enjoyed working with our experienced team who is more than willing to listen and accommodate requests. Whether you're looking for a one-of-a-kind piece or something special made just for you, Bear Creek Woodworks will make sure that you'll be delighted with the outcome. Read through some of these happy reviews and see why so many people have put their trust in us!
Creative Inspiration
Bear Creek Woodworks strives to provide unique, custom woodworking services which bring beauty, functionality and creativity to residential and commercial client projects. By combining expert craftsmanship with exquisite raw materials, customers can expect exceptional quality in every piece of work.
Using materials such as walnut, mahogany, cherry and maple, clients can find inspiration in the many possibilities that can be achieved through woodworking. Bear Creek Woodworks features a wide array of pieces from furniture to cabinetry to accents, allowing customers to personalize the look of their homes or businesses. With countless options for customization including grain pattern, color tones and detailing, customers are able to achieve a truly remarkable design aesthetic for their living space or commercial property.
In addition to providing beautiful pieces that enhance any space, Bear Creek Woodworks is proudto offer creative tips and advice on ways that clients can bring out the natural beauty in the material. From proper maintenance techniques like sanding and staining/sealing, to less obvious methods such as light waxing or steam bending curvilinear designs into hardwoods – these clever ideas ensure that each piece is unique and adds character and warmth to any environment.
Partners of Bear Creek Woodworks
Bear Creek Woodworks is committed to making a positive impact in the community. The company has partnered with numerous organizations and businesses to support their efforts. They have provided materials, volunteer labor, advice, and funds to several projects with the goal of improving the community.
For example, Bear Creek Woodworks has donated time, materials and volunteer labor to local non-profit Habitat for Humanity. They have built furniture used in new homes being constructed for low-income families in the area and continue to work with Habitat for Humanity on upcoming projects. Additionally, they provided woodworking supplies for a nearby school's woodworking class and even volunteered their skills as mentors for student projects.
The company has also worked closely with smaller businesses in the area by donating supplies or offering free services like custom drilling or especially difficult cutting tasks on large pieces of lumber. By sharing their experience and knowledge, they are showing solidarity with those companies that could not otherwise afford it.
In addition, Bear Creek Woodworks has taken part in several charitable events such as donating hygiene kits to homeless shelters or working on urban gardens at donation centers. Through all these efforts they demonstrate an unwavering commitment to helping out any way they can. With their support of these organizations and businesses, Bear Creek Woodworks is truly impacting the community by making it a better place to live and work!
The Future of Bear Creek Woodworks
Bear Creek Woodworks is on an exciting path to the future filled with initiatives and opportunities. They have identified areas where they can grow, diversify, and compete in a global market.
To achieve their long-term goals, Bear Creek Woodworks is investing in the latest technologies such as automation, robotics, and digital fabrication tools. This will increase productivity, scalability, and efficiency—providing the company with a competitive edge in their industry. They are also investing in research and development projects to develop innovative new products for their customers.
In addition to technology investments, Bear Creek Woodworks is looking at new markets for their products. They plan to target larger international clients and expand into more countries than ever before. This will create broader brand recognition and extend their customer base.
Furthermore, they are partnering with educational institutions to enhance their workforce development efforts and invest in employee training initiatives. These strategies will improve job satisfaction while fostering long-term loyalty within the workforce. Finally, they aim to provide an enjoyable workplace environment through ergonomic office design principles that boost morale and creativity.
Overall, Bear Creek Woodworks's commitment to both technology innovation and workforce development ensure they remain competitive in a global market while striving to better serve customers around the world.
Conclusion
Bear Creek Woodworks is a company dedicated to providing the highest quality, custom-made woodworking pieces for their customers. They use only the finest materials and craftsmanship in their projects and provide exceptional customer service. The team consists of experienced professionals from different fields, ensuring that each piece turns out perfectly crafted and exactly as desired by the customer. Some of their popular products include furniture, cabinets, and other complex items such as staircases. They also offer restoration services for antiques or older pieces. Their unique approach to creating each item reflects their commitment to excellence and customer satisfaction.
In conclusion, Bear Creek Woodworks is an excellent choice for anyone looking for high-quality custom woodworking pieces. Their talented team is knowledgeable about all aspects of woodworking, from selecting materials to finishing projects with precision. With their focus on providing outstanding customer service and attention to detail, no job is too big or small when it comes to creating beautiful items that are designed to last a lifetime.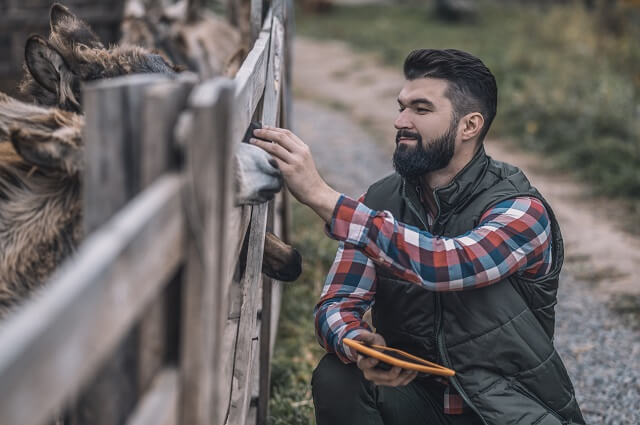 Hi everyone! I'm a woodworker and blogger, and this is my woodworking blog. In my blog, I share tips and tricks for woodworkers of all skill levels, as well as project ideas that you can try yourself.